Hot night from Hothouse Flowers
Citi Club, Boston, 1989
Steve Morse - Boston Globe, 1989
---
Boston has flipped for Hothouse Flowers. The Irish rock 'n' soul band has sold 300,000 copies of its debut album, "People."

Fully one-tenth of that has been in Boston, where the group's hits, "I'm Sorry" and "Don't Go," have ruled the airwaves in recent months.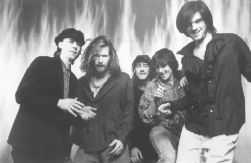 Fast becoming the biggest Irish band since U2, Hothouse sold out 1,500-capacity Citi club the past two nights. It felt like a welcome-home concert; and it didn't feel at all phony when singer Liam O'Maonlai said right off, "I'm glad to be back in Boston. I mean that sincerely."
This is a band obviously on the way up. O'Maonlai often sounds like an uncanny cross between Bruce Springsteen and U2's Bono, but there's no denying his devotion to rock 'n' roll. When the band rises in four-voice harmony behind him and guitarist Fiachna O'Braonain pulls out his 12-string guitar, it's nirvana time. Couple this with a strong touch of spiritual uplift - one song was dedicated to Mother Teresa - and it's not hard to fathom Hothouse's appeal.
Britisher Martin Stephenson was a turgid opener - playing solo and sounding too much like Paul Simon with a hangover - but Hothouse quickly dispelled the gloom. They were much friskier than their album would attest - and their spirit, and occasional forays into Southern funk, was reminiscent of early Little Feat. Another exciting aspect was the way saxophonist Leo Barnes would suddenly blow into the proceedings like Alto Reed in Bob Seger's Silver Bullet Band.
Occasionally, however, the band's reach exceeded its grasp. They played more than two hours - too long for a group that doesn't yet have enough first-rate material. There were weak spots, especially when O'Maonlai tried to sing some Ray Charles-type country-blues. But the band also took the time to play six new songs (being readied for a new album in September) and a few of them, including the volcanic "Giving It All Away," sounded like surefire hits. All in all, another Hothouse triumph.