MUSIC: Live: Emmet Hotel, Clonakilty
24 July 1997
---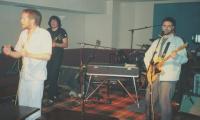 Photos: Band | Band | Ticket

Date: Tue, 17 Nov 1998 11:17:58 -0400
From: Robert Morrill
To: David Gilliver
Subject: Re: Hothouse Flowers


My wife and I were on holiday last summer in Ireland for two weeks. We had travelled from Donegal all the way down the coast through west Cork and were travelling through Clonakilty when we heard on Radio Ireland a part of a commercial about a show involving Hothouse Flowers. I couldn't believe it! I had asked around Ireland in our travels and was told that Liam was doing solo trad stuff but that the band was no more. I hoped that I would hear the announcement again.

After a disappointing trip through Cork to the Murphy Brewery (no tour, you are up against Guinness right?) we heard the commercial again. No mistake. Hothouse Flowers at the Emmet Hotel for two nights in Clonakilty, Co.Cork. What luck! Change in plans. We weren't going to stay two nights in the area, but we sure as heck amended those plans. I called the Emmet and reserved two tickets for that night's show (thought I was lucky to get them).

We got to the Hotel about an hour before the show, picked up the tickets, and hung in the small hotel bar. Fiachna and Peter were having dinner at the bar. I went to look in the room where the show was to be and was surprised how small it was. There were two small bars on opposite sides of the room and some nice late '70s/early '80s dance lights covering the ceiling (as well as the lovely rug you see on the stage in the pictures). The stage was also surprisingly small with the tables cleared from the floor piled in the back.

I went back into the bar, and after objections from my wife, played ugly American. I said a quick hey to Peter as we passed, and then went up to talk to Fiachna at the bar. He was extremely pleasant. We talked for a good twenty minutes. He told me how, after they finished each album, they came to play at this same place. So this was the very first show for them in many years. What a thrill. I introduced my wife and Fiachna introduced his daughters, both of whom were glittered and ready to go. I had asked Fiachna if they were going to play "Hallellujah Jordan" but they were saving that for the second night.

We then went to get our place in the room, and they took the stage about 15 minutes later. I was surprised at how thin Liam was and how short his hair was. Peter's hair was also very short, but they seemed ready to go. Both Fiachna and Peter played electric, while Liam moved back and forth from behind his small electric piano to the mike in front. They had a very young drummer and bass player with them. The crowd was incredibly small, about 50 at most. Maybe the publicity wasn't there, I don't know. We ended up standing by the booth with the sound guys and Fiachna's daughters, who seemed to enjoy themselves immensely.

They played for a little under 2 hours, with almost all of the music coming from the new album. The two old songs they played were "Forgiven" and "Love Don't Work This Way". At the end of the first set, Liam spotted his grandmother (I think) in the crowd and came out and gave her a big hug. He looked thrilled.

After the second set they did one encore, and then Liam came out and sang an acapella version of the old song "Carrickfergus," half in English and half in Gaelic. We left after that because my wife, being pregnant, was awfully tired. We had a great time.