MUSIC: Live: National Stadium, Dublin
17 October 1998
---
These are just my own jottings on the show from memory. Corrections/additions are welcomed.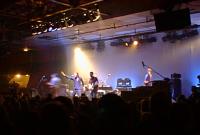 This show was perhaps the most significant show the band have played in 1998. It featured a variety of band configurations and was recorded for a live album. The band played for almost two and a half hours and played a cross section of songs from their four albums, including 5 songs from their 1998 release Born.
The band opened with "Give It Up" as a five piece: Liam (keyboards/vocals), Fiachna (guitar/vocals), Peter (guitar/vocals), Wayne Sheehy (drums/percussion) and ?Rob Malone? (bass). "The Older We Get", "An Emotional Time", "Hallelujah Jordan", "Be Good"
After a handful of songs, they reverted to the core trio of Liam, Fiachna and Peter and played a traditional Irish number (Liam on tin whistle). When Liam began playing, the audience began to clap to the rhythm. Liam stopped and complained that we were messing with his own sense of the rhythm. He started again, the audience began clapping, he stopped and yelled "stop it!" before continuing with the tune, being joined by Peter and Fiachna on acoustic guitar.
Liam then tinkered on the piano, looking for the cue to start the next song. Someone from the audience yelled out "1 2 3 4 GO!" and the audience and the band collapsed in hysterics. With their own count, they eased into the lush opening vocals of "Sweet Marie". As they played, a technician setup the additional microphones for the next section.
The trio were then supplemented by a small string section consisting of half a dozen violins and two cellos. I think Liam introduced them as having been found by Peter on Grafton St. "Find the Time" was performed with Liam out front clutching an electronic keyboard which he used to add atmospheric washes. The ensemble was joined by Wayne and Rob on later songs, and Liam retreated to sit behind his keyboards. "At Last", "Trying to Get Through".
When the string section had left the stage, Peter began ripping off a strong riff on his electric guitar. Liam left his keyboards to embrace the microphone centre stage where he cajoled the audience to their feet. After a couple of minutes of what may have been adlibbing, the music segued into "Born". For the next few songs, the band played upbeat material that kept the audience dancing. Some of the security staff removed a significant portion of the seating in the centre of the floor.
The encore began with "Stand Beside Me", their most overtly religious song. The riff of "You Can Love Me Now" was greeted warmly by the crowd. Liam played acoustic guitar centre stage.
Set List: (not correct running sequence)
Give It Up (Home)
The Older We Get (People)
An Emotional Time (Songs from the Rain)
This Is It (Your Soul) (Songs from the Rain)
Movies (Home)
One Tongue (Songs from the Rain)
Hallelujah Jordan (People)
Be Good (Songs from the Rain)
(traditional)
Sweet Marie (Home)
Trying To Get Through (Home)
Find The Time (Born)
At Last (Born)
Born (Born)
Forever More (Born)
I'm Sorry (People)

Stand Beside Me (Songs from the Rain)
You Can Love Me Now (Born)
Photos:
5 piece band || Trio || Trio || Trio & strings || Trio & strings || 5 piece & strings || 5 piece & strings || 5 piece band || 5 piece band || 5 piece band || 5 piece band