HOTHOUSE FLYERS HALFWAY AROUND THE WORLD IN 2 HOURS
review by Paul Streefkerk
Saw the Flowers give a gig last Wednesday at the Lokeren festival in Belgium. For a crowd of 4 thousand people, they gave a concert that was one of the best I ever saw from them. It looked like a mix from the busking Benzini Brothers and the flowers at their best. The 3-piece band looked like a new band who where determined to show the world how good they are at the moment. The concert was full of soul and emotional depth. But the greatest thing to watch was the joy they had with the 3 of them.
The concert was a mix of old and new songs. The concert started with a new song called "End of the Road". An emotional song with Liam on the grand piano and Fiachna and Peter on acoustic guitar. After that they played "Easier in the morning" in a brilliant blues version with Liam singing like a blues cat. The version of "Your soul" looked like the one on the live album but with a great instrumental part with Liam, not for the last time, playing his bodhran and following the riffs from Peter and Fiachna on the acoustic guitar. "Love don't work this way" brought the crowd to New Orleans in a bluesy/jazz version and the new song "Do it again" was something like the "Born" track from their latest album. One of the highlights was a slow version of their classic "Hallelujah Jordan". The 3 of them playing acoustic guitar with a great solo from Fiachna at the end. After that it was time to go back to Ireland again. "Si do mhamo" and "Banished misfortune" with Fiachna playing tin-whistle, Liam on Bodhran and Peter on guitar. The new song "Feel like living" was very intense. It was clear that they had a strong belief in the new songs. The played "I can see clearly now" in the well-known long version, interacting with the audience. At this song Liam played the only 3 notes at the Wurlitzer. During the show he was completely one with his grand piano. After that they ended the show with two new songs titled "Last few minutes" and the brilliant "Tell me". After that they played 3 extra songs. First we had to go to South America in a salsa version of "Don't go" and the crowd was completely quite at "Good for you". The journey ended in Ireland with a long jam version of "Cathain".
During the show Liam introduced the band as the hothouse flyers. And yes, it was, a trip around the world in 2 hours. Thanks guys!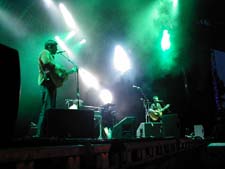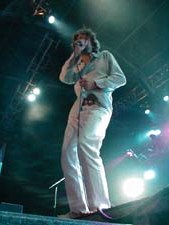 photos from Lokerse Feesten website