Every Flower Has It's Thorn
Hot Press - 24 June 1998
---
The release of Born may confirm that Hothouse Flowers are back to their blooming best, but as John Walsh discovers, Liam, Peter and Fiachna have a few vinyl skeletons in the closet. Readers of a nervous disposition are advised to proceed with care.
They say you can tell a lot about people by the books they read. Well, if that's true then you can certainly tell plenty about a band from the records in their collection - and Hothouse Flowers are no exception. I caught up with head Flowers Liam O'Maonlai, Fiachna O'Braonain and Peter O'Toole on the eve of the release of their fourth album, the rather spiffing Born, and interrogated them on the music that sends shivers down their spines.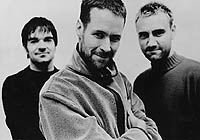 Some of my findings sent shivers traversing the length of my own backbone too, but for completely different reasons. Readers of a sensitive nature be warned - further reading could evoke severe bouts of dizziness and soul-searching.
If music be the food of love, the Hothouse Flowers have had a bizarre relationship with Cupid and his wooden bow. Somehow music always seems to play a part in our love lives. From first kisses at the teenage disco to swapping tapes with prospective partners (or is that just me?), music and love are inextricably linked together. For Liam O'Maonlai it was no different, as he recalls the circumstances surrounding the first record he ever bought.
"I had my first snog when I was 13 or 14," he begins. "I was at a party, the first night-time party I went to. It was around Christmas time, and there was mistletoe, so there were snogs for everybody. It was no problem - you didn't have to do any moves. I remember thinking, 'God, her mouth opened'. I didn't know that'd happen.
And then slow dancing happened as well. So I thought, 'Jesus, this is great'. All I wanted were more and more parties to explore this.
"We got our first three-in-one that Christmas, and I was thinking "What would be a good slow-dancing record?'. There was one album that I remember listening to and thinking was pretty cool, especially for the old slow dancing. Also, I taped a song off the radio from this album, which was played by Vincent Hanley years before, which haunted me. It was 'Spanish Train' by Chris De Burgh."
Needless to say, general hilarity greets this revelation.
"It is a great album - it's got great production, not unlike the production on Hunky Dory," Liam protests, sending Fiachna into yelps of pure laughter. "There is an earthiness to it, and a lot of orchestra. It is very present and dark, believe it or not."
With laughter still bouncing off the walls, Liam gives up and apologises for shocking the nation.
Having experienced this awful admission at first hand, my mind was quaking at the thought of what further interrogation might bring. Dare I delve too deeply into their musical memory banks for fear of what devilish offspring might ooze forth? But then again, could it get much worse? You betcha. Over to you, Fiachna.
"The Saturday Night Fever Soundtrack is the first album I ever bought - that has always and will always be in my record collection," confesses the guitarist with a wry smile. "When Saturday Night Fever came out, it was a 15s movie in Ireland. I was 12 and I was in Paris when I saw it. I used to go to France in the summers, and I was delighted with myself to get into what was a 15s movie in Ireland. It was in English with subtitles, and I loved it so much that when I came back I bought the soundtrack and really got off.
"One of my most embarrassing, awkward adolescent moments was doing the Saturday Night Fever dance in the living room when my uncle walked in in the middle of "Staying Alive'. It was like getting a horn on the bus," he volunteers, as the other two collapse in fits of laughter.
Further investigation reveals that another, very different Saturday night kind of record also features prominently in Fiachna's collection.
"One which I always put on when I've had a few drinks late at night is a Brendan Behan spoken word record, which is brilliant. It's just him in the studio talking and singing songs, anecdotes, stories, songs, blowing his nose - it's one of my all-time favourite records. He starts off pretty sober and ends up not nearly as sober - you can hear him tiring out."
Peter O'Toole's maiden musical voyage, while not as sordid as his companions, is still quite embarrassing.
"The first single I ever bought was 'Stranger On The Shore' at a sale of work. I didn't know what I was buying but I just fell in love with it. The Beatles' Oldies But Goodies was the first album I ever had - I think it was just going cheap. I remember I was a real Beatles fan and I actually cut out a picture of Paul and Linda, framed it and put it beside my bed. I remember bringing it to the Gaeltacht and they all started calling me "Beatle"."
Chris de Burgh's Spanish Train may have been the first album purchased by the young Liam O'Maonlai but he certainly made up for it with his second investment.
"The second disk that I got was Road To Ruin by The Ramones, on a yellow disk, so it had a lot of reasons for me to buy it," he recalls.
"I remember the cover was a cartoon of the band, which was really cool - I kept making copies of that. It was a really cool album, really short, punk-pop songs from these guys who had an image that I thought was great. I'd been into the English and Irish punk thing for ages, The Stranglers' No More Heroes being the first tape I ever had of music. Then I got Never Mind The Bollocks - friends had taped them for me.
"I'd heard about American punk and I was trying to imagine what it was like, how they looked and how you could be a punk with an American accent. This was intriguing me. Then I saw The Ramones on Top Of The Pops singing 'Don't Come Close' and I just thought 'Oh, that's cool' - the weirdness of it. The weirder and the quirkier the better - so that was the second album I bought."
Chris de Burgh and The Ramones may seem like an odd connection, but they were merely the first steps in O'Maonlai's magical mystery tour.
"Most of our records were borrowed," he admits. "We were scrutinised over what albums we'd buy, so we borrowed a lot, like Led Zeppelin, Meat Loaf's Bat Out Of Hell, which blew me away. I thought that was amazing at the time - all the piano."
Liam then goes on to describe the other music that exerted its influence over the young O'Maonlai's mind.
"The first-ever album that was in our house was Sean O'Riada Sa Gaiety, on a cassette, and that was a serious influence on me and remains an influence. He was a keyboard player - he played the harpsichord. So his approach to music, his way of structuring chords and sequencing his music, would be ingrained into my head - I have a feel for and an understanding of descending chords."
Liam pays particular homage to O'Riada's use of space, starting a piece with a plethora of instruments and paring it back to just a single flute.
"I'd envisage doing more along those lines, even if it's not traditional, just being crazy with arrangements - using the impact of silence rather than the impact of sound."
In the traditional field he cites Na Fili and Planxty as major influences - the latter being one we share in our respective introductions to music. When I was 10 I knew the words of 'Cold Blow And Rainy Night' off by heart, having listened to them ad nauseam on trips down the country in my dad's old Ford Cortina. Liam smiles when I tell him this.
"For us, we bought the two-in-one with us. It was an event when Dad bought this radio-cassette player, a Sanyo - we used to bring it on holidays with us, and we'd have it in the car everywhere 'til the batteries ran out."
Of course, no-one could listen to a Hothouse Flowers album without noting the soulful nature of Liam O'Maonlai's voice. How did that influence kick in?
"Just before we got together as a band, my friends were listening to Joe Tex, Otis Redding, Marvin Gaye and the whole Motown thing - we were all dancing to it. That was a big inspiration for the music that I wanted to do. When we started, I sang with this black soul voice and 'Love Don't Work This Way' came out of that inspiration."
Another singer who crops up a number of times in the conversation is Tim Buckley: "He was a white singer who sang like a voodoo shaman," Liam enthuses. "He'd go crazy, talking in tongues virtually."
When the Flowers first began to bloom, it was around the time of The Waterboys' This Is The Sea which, lyrically and vocally, had a huge impact on O'Maonlai.
"I just couldn't believe these lyrics that were coming out - I hadn't heard a poet in pop before, somebody who put so much work into the lyrics, but they were very straight lyrics as well. And he had the passion of the punk thing, so suddenly a full circle came around. He was bending the notes in that dangerous way, yet singing beautifully. He had a soul that was much closer to home, and that was a big turnaround for me in how to express passion and soul."
That old soul influence can be found in all its glory on the B-side of the current single, 'You Can Love Me Now', where the Flowers play an amazing version of James Brown's 'It's A Man's Man's Man's World'. Is it something Liam always wanted to sing?
"Not really," he muses. "It's a song I always really liked. I think we tried jamming it once, even though I didn't have a clue of the words, during a soundcheck, and we got a great atmosphere going. Usually, if I don't know the words, I make them up.
"We went to John Reynolds' house in London and just lashed it down in a day. John actually had the record so I was able to refer to it. I was feeling really unworthy during the recording, which is probably the best way to feel. I just felt that I just couldn't do this justice at all. I went down and listened to the original version, the performance, the dynamic and the whole gut going into the song, and then I come along with my namby-pamby version of it. But listening to it now, with distance, I feel much happier."
The Waterboys and James Brown have been joined in Liam's record collection by some contemporary artists in the intervening years. "It took me a while to get into the groove thing," he muses, "though I remember hearing Ice Cube in the basement of a house in London, really, really loud, in the morning and I remember thinking 'Jesus, I know why this works'. It's really good for your spine.
"I'm still very impatient with people over-using machines, though. Then I heard 'Unfinished Symphony' by Massive Attack, and that seduced me right across, the rawness of it and the stringwork and the video. I just thought, that's the way to make a video - just get a camera and do it: plot it out and let that be what happens. There's nothing as entertaining to the eye as a visual monologue."
Other singles to excite him include Neneh Cherry and Youssou N'Dour's 'Seven Seconds' ("It's was like, good music on daytime radio?") and The Verve's 'Bittersweet Symphony' ("What a single!") and Limerick's finest, The Cranberries - ("There's some very good writing going on there - with a really good singing style. I hope they explore more of that.")
All this talk of musical influences and on-going development brings up neatly to Born, Hothouse Flowers' new album. Last time I spoke to the trio was just before Christmas when they were preparing for a brief Irish tour. Since then it has taken the album some time to surface. Are they relieved that it's finally hitting the shelves?
"We're kind of glad of the time it's taken, between Christmas and now," observes Peter. "It's been valuable time to put plans into action, to have a few disappointments and bounce back up again. We've done a good bit of gigging as well, and had a chance to air the songs, so we feel really good about that."
The band tightened their set in the wilds of West Cork, Leap to be exact, which has become something of a regular haunt.
"It's a great place for just honing our skills," explains Liam. "There are a lot of things provided and great people around - time goes nice and slowly there."
The south-west may seem a long way to go to play, but the Flowers' travels have taken them even further afield. Last Christmas they nipped nimbly across the Atlantic to the land of the rising spliff, Jamaica, where they recorded with Joe Higgs, one of the original voice coaches for The Wailers.
"We started a bit of work from here and then we all went over with our families on Christmas Eve to continue writing and recording with him," says Peter. "Come Christmas morning we were in Jamaica, sitting around a swimming pool. We spent 10 days with him, working in the studio. It was quite tough juggling the family and the work, but we got some great songs out of it."
Will they ever see the light of day?
"They will," says Peter with certainty, "but it's really in his hands as to when it comes out."
Upon their return to their native shore, the Flowers took some time off before embarking on a series of Celtic Flame festivals throughout the UK.
"When we started plying we had a honeymoon period, where everything was amazing - new songs, new energy, everything," recalls Liam. "Then we did a gig in Glasgow and it just provided a magnifying glass as to what we needed to look at in terms in terms of rearranging the set. We did that in Leap and then put it on to a big stage in the Opera House in Cork."
Apart from all the smaller gigs and intimate affairs, I wondered how good it felt for the trio (along with their new rhythm section) to get back on the big stage again as Hothouse Flowers?
"For a long time it felt strange because it's not the Flowers as we always remembered them," muses Peter. "It was new and it was a case of getting our heads around what that meant..."
"Realising the potential of that and trying to define what we had," explains Fiachna.
"For me it was only towards the end of our touring, in Leisureland in Galway or the Opera House in Cork, where I felt brilliant about what we had. But it was very nerve-wracking as well," admits Peter.
"Our approach to playing together definitely has changed," says Fiachna. "Playing with Michele (Shocked) we had no rehearsals so we really had to listen and watch, because she has her own tempo which really ebbs and flows. We had to apply that to ourselves as well, particularly after the Glasgow gig, when we felt that things had got a bit loud and bombastic, and a bit unclear, and Liam couldn't hear himself singing - it was like being under water.
"There always was an instinct in the Flowers to play hell-for-leather, everyone full-on, and everyone playing loads of notes. There wasn't a lot of space. Funnily enough, at soundchecks we used to have loads of space but the potential of that never really got realised. So we just worked on that by paring it down and almost exaggerating it, to something which feels really good.
"It's probably as a result of the break, having other musical experiences with other people, and also our desire to bring our own dynamics somewhere other than they've been before."
The end product of the new direction, Born, is something of a summer album, with those electric guitar chords and Liam's soulful tones perfect for warm days and long evenings. I actually found that it's a great album to walk to, with the rhythms and melodies forming a perfect accompaniment to a fast pace. It's a sentiment with which Peter agrees.
"The rhythms are better in it, they're cooler, so you can walk with it, forget you're listening to it," he says. "I remember when it was just finished, it wasn't even mixed. I was in London and I went walking around Oxford Street listening to it. It was just perfect, walking with the headphones on. There is something bright about it and the song 'Pop Song For The Universe' was on and I just felt that this song can burrow into somebody's heart."
It transpires that 'Pop Song...' was quirkily written, with Liam messing around with weird sounds on the synth to a loop, "and then I just wrote down words really quickly, non-judgementally, a series of images and the idea of being free, getting funky with words."
In fact the entire album was written in a different manner to their previous material, which was often penned on the road or in their brief respites from touring.
"The songs were written with no time-pressure involved," says Peter. "It was a big open-ended journey that we were on, so therefore we explored various different types of sounds and we ended up with a selection of one's which we felt worked best. We spend a lot of time working with loops and things, so you're automatically going to go somewhere else with it."
Not only are drum loops a feature of the new album but Born also contains far more electric guitar than their previous three LPs.
"We resisted that through the 80's, going for the full electric sound, because it was so commonplace with production," says Liam. "But now that time, that period is over, and we've also gained experience. We're all a bit wiser now.
"I think there's a lot more definitive work on this album than there was on the other ones, in terms of the way the whole thing is executed. The album has been brought home according to a definitive idea and vision. There's a very strong determination going through it. Peter really held the responsibility for taking the album through the various stages, mainly because he wrote most of the songs but he also had most of the vision for how the sound could go. Fiachna and I just did our bits and circles around the situation."
It seems that, in the case of the Flowers, Led Zeppelin were wrong. The song does not remain the same. But how much have the players changed? How different do they feel as musicians and as people this time round?
"I feel that life has evened out a bit," says Fiachna. "It's more powerful, more potent, stronger."
"I think we found a great freedom when the break happened," adds Peter. "We are now three individuals who have come together again - what we're offering is who we are, our individuality. There's nobody standing over us, trying to divide and conquer. We're at ease with it. We know we can say 'no' to each other, we know we can argue with each other."
"As a person, I feel I can fit more of my life into my head," says Liam. "All of these elements that used to be a bit overwhelming, I can now fit into my head. And I think that's the goal, the more of my life I can fit into my visualisation the better. There's a place, there's order in my head regarding my life, regarding where money comes from, regarding where I live, regarding who I'm married to, regarding how I get on with the band, regarding my place as a citizen or a civilian, I can see it in my head a bit more."
You don't have to take their words for it - cock an ear to Born and you'll know that the Flowers are back in bloom.
---
Currently on the Hothouse jukebox:
Peter O'Toole: The Verve, Daft Punk and DJ Shadow
Fiachna O'Braonain: Bob Dylan, Rolling Stones, Leftfield, Massive Attack and the latest Madonna album.
Liam O'Maonlai: Shane McGowan's Crock Of Gold: "It's very fucking good. It's full of the usual extreme insights and humour...he sounds brilliant, for all these doomsday vibes about him."