Hothouse Flowers' sweet smell of success
by Adam White
from US Rolling Stone, September 8, 1988
---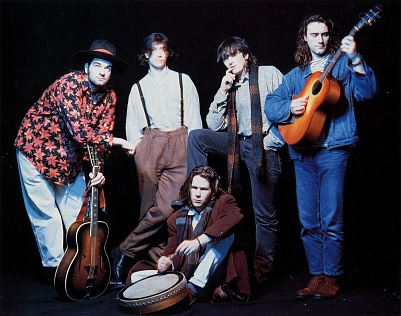 A new Irish band blooms with a little help from U2's Bono
Three years ago, the members of the Irish band Hothouse Flowers were making their living playing on the streets of Dublin. But an appearance on Irish television in 1986 changed their fortunes: one of the broadcast's viewers was U2 vocalist Bono, and the singer immediately rang up the band to offer his assistance.
"The prospect of his help and just that little bit of extra exposure was quite exciting," says Liam O'Maonlai, the lead vocalist and keyboardist of Hothouse Flowers, calmly describing a call that most new bands would have sold their souls to receive.
The outcome of Bono's offer was a single released on U2's own Mother Records, which cemented the band's popularity in Ieland. Soon major-label A&R executives were vigorously pursuing the Flowers, who ultimately signed with PolyGram's London label.
The highly touted band - whose music extends the Celtic-soul tradition of Van Morrison with a rich, distinctive stew of folk, blues, country, traditional Irish music and rock & roll - made its album debut this summer with People. In September, the Flowers will begin their first American tour.
The nucleus of Hothouse Flowers is O'Maonlai and lead guitarist Fiachna O'Braonain, who met in school and played together in various traditional and electric bands.
It was while busking around Dublin that Hothouse Flowers - whose other members are bassist Peter O'Toole, saxophonist Leo Barnes and drummer Jerry Fehily - attracted the attention that led to their television appearance and the call from Bono.
When the band signed to London, another lucky break occurred: a guest video spot on the widely seen Eurovision Song Contest television special: "It was a great opportunity for climbing a few steps up the ladder," says O'Braonain.
The ascent continued with the release of People, which reached Number Two on the British charts in June. Recorded last fall in Dublin, the album's eleven songs are all originals by O'Maonlai, O'Braonain and O'Toole; they range from the barroom gospel of "Hallelujah Jordan" to the rural melancholy of ballads like "Forgiven."
Hothouse Flowers' music has provoked various comparisons - most notably to Van Morrison and Bruce Springsteen - but O'Braonain says that their main inspiration is an album by a fellow Celtic rock band, the Waterboys. "When we first heard This Is The Sea," he says, "it just sounded so true and so honest."
The same could easily be said of Hothouse Flowers' songs, which O'Maonlai describes as "celebrations of natural things. We love nature, and we want people to realise how much they do as well."